Using the My konnect Customer Portal
How can I access My konnect Customer Portal?
How do I log in to My konnect Customer Portal?
First visit: https://client.konnect.com and click on 'Sign in'. Here you will be asked to fill in your email address and password. The email address will be the same as you used when you first signed up to your konnect service. If you aren't sure which email you used, have a look through your inboxes until you find your konnect confirmation emails. This will be the email address to use.
Fill in your password and click on 'Sign in'.
What happens if I forget my login details?
If you have forgotten your password, visit: https://client.konnect.com and click on 'Reset My Password'. You will be prompted to fill in your email address and will receive an email to this address with a code, which will allow you to verify your email. Follow the onscreen instructions to set up your new password and login.
If you no longer have access to the email address you first signed up with, you will need to get in touch with Customer Services on 01869 222332.
My Internet is slow, how do I test my speed?
If your connection is slow, the first thing to do is take a look at our dedicated network management app called RouteThis. This will analyse your network and suggest how to resolve any issues. Find out more about the app and how to get in touch with us if needed here.
How do I raise a case with Customer Services?
Raising a case with konnect Customer Services is simple. First, log in to your My konnect Customer Portal. Then, navigate to the Assistance section.
Once in the Assistance section, please check out our self-help tips as these may cover the issue you are experiencing. If you have read the most relevant of the frequently asked questions and still need assistance, click on No in response to the question 'Did this solve your issue'.
Image


You will then be presented with a form to submit your question to us.
Image


Contact us
How do I contact my konnect team or get help?
To contact your konnect team, call 01869 722 460 from UK (cost of a local call).
Call us Monday to Friday 9 am - 5 pm and Saturday 9 am - 3 pm.
How do I make a complaint?
For any type of issue, please check the Frequently Asked Questions section of the My Konnect Customer Portal first, as it contains a lot of information, particularly about the performance of your Internet connection. If you can't find the answer to your problem, please contact your Konnect customer service team directly or create a ticket. Our advisers will try to find the best solution to you request. If we have not provided a satisfactory response to your request and you wish to make a formal complaint, please consult our complaints procedure available here.
Troubleshooting
How to run a speed test
First, open a Web Browser (Firefox, Internet explorer, Google Chrome, Safari). Next type https://speedprobe.konnect.com into the address bar and press enter.
Note: This site will only work on a Konnect Satellite Service. We need you to use this speed test as it will provide us accurate results for the latency as well as the speed. 
Give the test time to run and you will see the results for the latency, download speed and the upload speed.
If your speeds are lower than expected, we recommend turning your modem off and on again. We know it sounds like an IT cliché, but it really can help. To do this, you need to unplug the modem or switch it off at the wall, then plug it back in or switch it on again. Once you've done this, Power it back on and wait for the connection to reconnect.
When this is done, you will see:
Power – On
System – On
Transmit – Flashing
Receive – Flashing
WiFi – On or Off (depending on your settings)
Please then run the steps above again to refresh the results of your speed test. 
If the speed is still lower than expected, please give us a call so that we can investigate the issue. 
How can I stop my streaming service buffering?
How to change the WiFi password.
First, login to the Modem Interface on 192.168.0.1 and click on Wi-Fi Settings
Image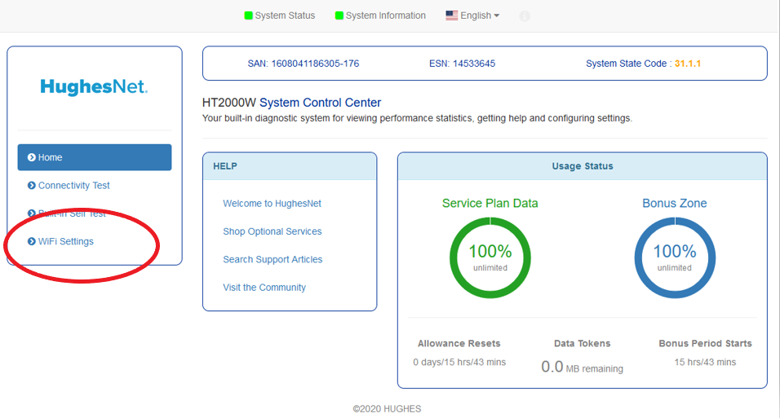 Next, enter the default password: "admin" and click Login
Finally, select the Wi-Fi frequency which you wish to change password for. 
The network Name will be displayed to confirm the network you are changing - Network Name(SSID)
As default, 2.4GHz and 5GHz are enabled.
Image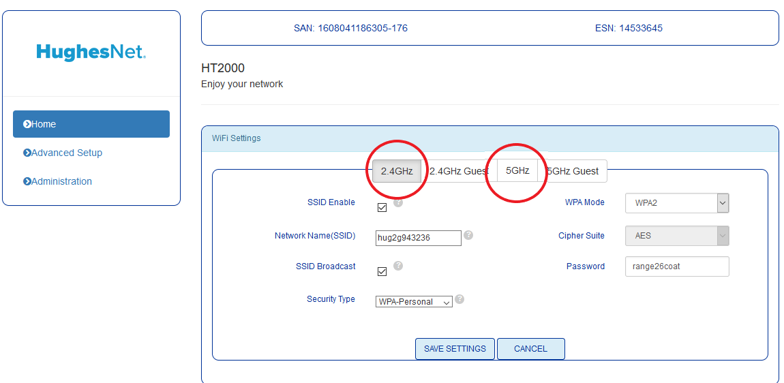 Making the most of your service
How to schedule downloads overnight
To make the most of your priority data, we recommend running major downloads overnight when your usage won't be deducted from your priority data. This is between 1 am and 6 am. But don't worry, you don't need to stay up to do this, you can schedule it to take place automatically. There are lots of free tools available online to manage your downloads. We've found a neat and up-to-date list of the 10 Best Download Managers for Windows on beebom.com and recommend you take a look. For Mac users, there is a similarly handy list of the Best Download Managers for Mac OS.
All have their pro's and con's and we're not affiliated with any of these providers, but if you find yourself frustrated by slow downloads or needing large files that you could download in advance, these tools could take a load off your daytime Internet use and let your downloads happen when you're not in a hurry.
How to download video and TV overnight
Make the most of your priority data by downloading the latest series overnight and save your priority data for when you need it during the day. Most streaming services allow you to download content on their apps which you can then cast to your TV. Casting is when you send content from your phone or tablet to your TV. You'll need an extra piece of equipment that is connected to your TV, but these can be bought for less than £10.
We also recommend PlayOn, which is a paid-for app that allows you to download films and TV shows to watch later. With this tool you set content to download at a set time so you don't need to stay up to set it running and your content will be ready for you the very next day. You can find more information on their website.
How to schedule updates overnight
Not only is it frustrating when your computer starts an update at the beginning of the day when you're trying to get to work, but it eats into your priority data unnecessarily. Instead, we recommend scheduling updates overnight. Here's how.
The first thing to do check the active hours settings on your computor. These are the times when you typically use your device and when it shouldn't automatically be restarted for updates. On Windows you can check and update these settings by clicking on the Start menu icon and selecting "Settings". Then click on "Update & Security". The "Windows Update" screen displays by default. One of your choices is to Change active hours. The current times set are displayed directly below and you can modify them by clicking on that choice and following the steps.
If you want to check for pending updates, simply follow the same steps as above. The "Windows Update" screen will show if you have updates available. You can then manually set these to update. To schedule updates for later, Microsoft, have a detailed explanation.
It's less simple to set a Mac to update overnight and for a major update it might be worth staying up a little later and setting it running overnight. To prevent your Mac from updating automatically, you need to open System Preferences and click on App Store.  You'll then see the options for automatic updates on macOS. To disable automatic updates, click on the tick mark next to Automatically check for updates to uncheck it.
Paying for your Konnect service
When will I receive my Konnect invoice?
Konnect team will send you a notification informing you that your bill has been published within your Customer Portal on a monthly basis. You can then log in to view and download your invoice. 
When will I be asked to settle my invoice(s)?
Your invoice will be considered due 15 days after we post it on the My Konnect Customer Portal.
What should I do if I have an issue with my Konnect invoice?
If you have any issues, just give us a call 01869 722 460 from UK (£0.02/min from a landline). Call us Monday to Saturday 9 am - 6 pm.
What is the difference between « Total Invoiced » and « Outstanding Balance »?
Total Invoiced is the sum of everything on your invoice whereas the Outstanding Balance is the sum of any unpaid items to Konnect, this could include previous months' invoices for example.
Can I get a single invoice only for my Activation Fee?
Unfortunately, we're not able to offer this at the moment, but the Activation Fee will be listed on your first invoice so that you have a record of this payment.
What payment methods can I use for my monthly payments?
We're not yet able to take Direct Debit payments and are working on introducing this as soon as possible. In the meantime, we would like you to pay using a link that we will send you every month. We'll send you an email each month when your invoice is due with a secure link where you can go and make your payment. Using this link you can pay by Credit Card or Direct Debit. If you are asked to receive an SMS with a code to enter on the payment page, don't worry, this is just an additional layer of security, which is becoming increasingly widely used. 
This will just be for that month and we can't store your Direct Debit details for future payments. We do apologise for this inconvenience and will be in touch to set up your Direct Debit as soon as we are able to so you won't need to go to this trouble every month. 
I've paid, but my invoice is not yet showing as paid in the customer portal.
If this happens, it's nothing to worry about, it can take a few days for our systems to update. If it is still showing as unpaid a full week after you made the payment, there could be an issue, so please get in touch with us. Otherwise this is nothing to worry about.
Why do I see a name other than Konnect on my bank statement?
Konnect is using a Payment Service Provider named ADYEN. This might be the name you will see on your bank statement. Please don't worry, this is completely normal.
Why do I see a 1 EUR/GBP/USD transaction on my bank statement?
As per our Anti-Fraud policy, a pre-authorization might be sent to you (1 EUR/GBP/USD) to verify your payment method.
Don't worry, nothing will be debited from your bank account.
When will I receive my refund?
As per our Contractual Conditions, any refunds owed to you should occur within 14 days.
Refunds will be made to the payment method used to sign up to your Konnect subscription unless you request otherwise. 
I received a suspension notification, what is it about?
If you have overdue invoices, we may need to suspend your account. This means you will not be able to use the service. 
This suspension does not mean we've terminated your contract, it is only temporary until you settle your account with us.
How can I end my suspension?
If you have been suspended, please first check your emails.
Make sure you haven't missed any of our payment emails with a link where you can pay. If you have, please use the link to pay your outstanding balance. 
If you didn't receive an email, please give us a call so we can check we have the right email on file for you. We can then email you with a link where you can make the payment. 
Once you've settled your Konnect balance, you will be back online within a few minutes.
Cancellation and equipment return
How do I return the Konnect equipment?
Within 3-5 days of you cancelling your subscription, you will receive an email containing your return label from our courier UPS. Please be sure to check your spam folder if you do not receive it. This email will contain full instructions for you to print the labels and arrange a collection online, by calling UPS directly or dropping your parcel off at a UPS collection point
What should I do if I've not received the return labels?
First, please check the inbox for the address you used when subscribing to Konnect. Be sure to check your spam folder. If you're sure you haven't received your email, please give us a call.
There is an issue with my return labels
If you have any issues such as a blank or expired return label or anything else unexpected, give us a call and our customer service team will be happy to help.
If the weight on your return label doesn't match the exact weight of your parcel, that is nothing to worry about. Follow the instructions on your email and any differences in the parcel weight will be handled directly by UPS.
Why am I being asked to pay for collection?
This should not be the case. If it is, you might have clicked 'No' as the answer to the question 'Do you have pre-printed UPS Shipping Labels for your shipment?'. Please be sure to tick 'Yes' to this question and get in touch with our customer service team if you need new labels to be sent to you.  
I don't have the original box to return the equipment in
This is nothing to worry about. Please, use any other box that will ensure the equipment is well packed and won't be damaged in transit. 
I have more than one parcel to return
If this is the case, please contact our customer service team who can arrange the collection with UPS for you.